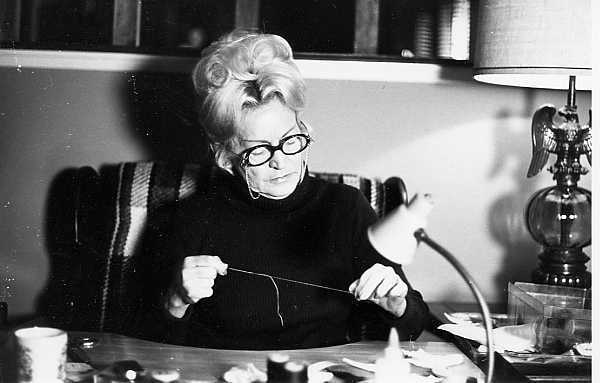 Iaulanda Turner Downey (Pronounced Yah-lawn-duh)
Growing up, more often than not, I'd find my mother sitting at her work table hand sewing doll body parts, putting on their hair, adjusting their hands just so, or drawing and embroidering their faces. She had started her in-home business when I was three, initially thinking it would keep my father's hands busy while he recuperated from an illness. Instead, it turned into a full-time business that kept her busy year after year.
My mother was the most creative, resourceful, persistent, inventive (and sometimes stubborn) woman I've ever known. She spent as many as sixteen hours a day working on the dolls, eventually employing as many as ten women. Some sewed pieces together in their homes. Some visited the house weekly to help stuff, dress, and put together the dolls. Mom built up stock from January to September, so she could sell in November and December to her long-time mail-order customers, nationwide specialty shops, and department stores such as Marshall Fields, Frederick Nelson, and Halles. For many years, a sign hung on our bulletin board proclaiming "...as soon as the rush is over..." and she would be heard to say, "after November!" Amazingly, she still had time to make us wonderful gifts and sew clothes for her, for me, and my cousin, Kim. Although she would disagree, the house was kept clean, and she cooked dinner every night. She always took the time to look amazing. She said it was important every day, even if late in the day (though rarely) to make the beds. Somehow that helped her feel organized and neat, a practice I follow as well.
Mom borrowed ideas from children's nursery rhymes, fairy tale books, and other crudely-made ornaments she saw elsewhere and thought she could make better. Comparing early creations to those in the later years, I can see how she learned what colors popped on the tree and continued to greatly refine each one. For example, Hickory Dickory (a grandfather clock from a nursery rhyme) started out as a flat piece of felt and evolved into a three-dimensional clock filled with a block of styrofoam. In the early days, she handmade salt dough for Miss Muffett's plate and also Wizard of Oz Dorothy's furry dog, Toto. (If any of those have lasted, they are very rare.) She cut up old postcards to handmake books for Pinocchio. Later, as her production numbers increased, she switched to plastic plates, chenille dogs, and store-bought miniature books. If any doll makers remember the Standard Doll catalog, it was a favorite ordering place for my mother.

My father, who initially had been given the job of hand-tracing each felt piece needed, bought my mother a used, one-ton punch press and made dies to facilitate the process of cutting out the many parts. We had a metal rack in the basement filled with wood dies, each numbered and filed in order for easy access. Dad also built shelves under the basement steps to hold the many colorful bolts of felt Mother ordered in bulk. I have memories of roller skating in our basement while Mom laid out felt strips cut to width and Dad punched them out. Dad always wanted Mom to manufacture the ornaments as kits (think Bucilla), but Mom disagreed. I don't think she could bring herself to let go of the perfection she put into each one. She was very particular about the stitching and was known to throw out entire batches sewn by staff if they didn't meet her standards.
My father became very ill and became bedridden in 1975. He died that April. (I was just 15.) Mother's business helped fill the gaps in her income, and she worked harder than ever as I finished school. In those latter days, my husband-to-be, Tim and I, often worked with her then as well.
As I was preparing to graduate from high school in 1978, she asked me if I had any interest in taking over the business. It would be easy to say I did not have the desire to work as hard as she did or that I didn't fully appreciate the dolls that were an everyday part of my life. In truth, and what I told her, stemmed from a very valid fact. I did not have the talent she had for working their hair, drawing and designing their clothes, embroidering their faces, or making their hands bend just right so that they seemed to come alive. And while she tried to convince me otherwise, even today, I am blown away when I look at them and see the tiny details and intricate work. Thus, with the help of my soon-to-be husband, we smashed the countless dies that had been painstakingly hand-built by my father so that her dolls would never again be made. It truly was a sad day, one I sometimes regret, but I know, that was not my path.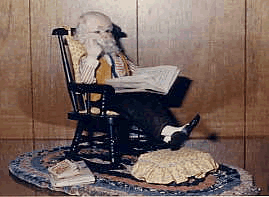 So after living a challenging life, after giving hours and hours of it to the making of these dolls, she retired, spending her last few years in Florida where she golfed and played with crafts she enjoyed. All too soon, her life was cut short by disease and she was gone at age 72.
On this site, I hope to share some of the wonderful stories about the dolls, the life we lived around the making of them, as well as insights into the incredible woman who was my mom. If you've collected her ornaments, I'd love to hear from you, hear your stories, see photos (both from now and then), and learn how they came into your life. And if you should come upon the Storyteller, my mother's trademark doll which has been lost, I'd love to know about that as well. He sat out for all to see for as long as I could remember. After she died, my step-father remarried. Later, her dolls were apparently sold in a Florida yard sale. I know the Storyteller is out there somewhere. I hope whoever has him, has cared for him with all the love we would have. He is greatly missed.
You can also follow us on Facebook here... scratch that. Someone hacked our Facebook and stole it from us. We hope to recreate it soon. . .