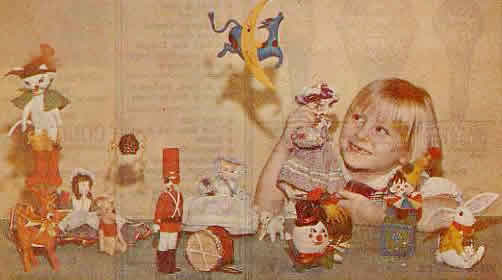 This little girl from Butler, PA, looks at the library display of dolls including (left to right): Rudolph, Puss 'n Boots, Little Miss Muffet and her spider, Winnie the Pooh, Toy Soldier, Drum, Little Bo Peep and lamb, Cow Jumped Over the Moon, Mary, Mary Quite Contrary, Cockey Lockey, Humpty Dumpty, Jack in the Box, and March Hare from Alice in Wonderland.
A collection of about 30 storybook characters made by Mrs. Iaulanda Turner, of Warren, Ohio, are currently on display at the Butler Public Library.
Mrs. Turner became interested in creating the characters while making ornaments for a small daughter's Christmas Tree. After creating several of the storybook figures, she began adding more and more dolls to the collection, until now her hobby has turned into a profitable business venture, with the characters much in demand by collectors.
In making the figures, Mrs. Turner used wired felt, scraps of fabric, ribbons, lace, beads, and other odds and ends found around the house.
Little Miss Muffet with her huge black spider, the Wizard of Oz and his friends, Alice in Wonderland and some of her strange little friends all appear just as they look in the illustrations of famous children's books. The dolls, which appeal to adults as well as children, are displayed in the Children's Department of the Butler Public Library.