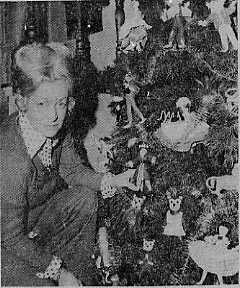 Howland Bandwagon - September 2, 1970
by Dorothy Smith
HOWLAND - "It's an overgrown hobby" the talented, artistic, blue-eyed lady said as she described her unique hobby of making replicas of Children's Story Book Characters into Christmas tree ornaments.
Artist in her own field, hobbyist Iaulanda Turner began making felt dolls or Christmas Tree Ornaments seven years ago.
There were two motives which prompted that beginning, Iaulanda said. One, she wanted something which her son and daughter could keep to remember the joys of Christmas, and two; nerves! Iaulanda said she must be doing something with her hands from morning to night. And making the felt characters was the answer!
Her first work of art was a clown. He is still one of her most treasured characters, and holds many, many memories for his creator.
In those early days, patterns were cut, one at a time, by hand, and completely sewn by hand taking hours to finish one character. Friends saw the little story book people and wanted one, then another. Through word-of-mouth, the demand became greater than the supply.
Iaulanda's husband, Monte, became interested in the venture. Today, Monte is Iaulanda's adviser, best critic, helper, and he gives encouragement when the going becomes difficult. Monte makes dies for cutting the patterns, often making three or four dies during a weekend. Several pattern pieces can be cut at one time by the die, speeding the process. He purchases the felt and other needed items to create the many characters which number almost 50 now.
Monte keeps a perpetual inventory and in a second can tell how many of each character are in stock.
Work is done on the production basis. With needle flying, Iaulanda can turn-out four and a half to five dozen completed characters during the peak production weeks. At the same time, she must keep up with the housework, and the cooking, and occasionally make clothes for ten-year-old daughter, Jamie.
Production work goes on all year with the exception of one month when she "plays" that is designing new characters, getting details exactly as she wants them. She is always looking for better methods. When September rolls round, work is begun in earnest, and a working day is 16 hours long.
Most of the sewing is still done by hand, only parts of the little dresses and some ornaments are done on the sewing machine. Basically though, due to necessity (because the work is such intricate small work), sewing must be done by hand.
HAS TRADE MARK
Iaulanda supplies three stores with her unique handicraft, including The Nantucket Sleigh Ride, in Nantucket, Mass.; The Studio, at Lake Placid and Ducray's in Mount Lebanon, near Pittsburgh. Along with supplying these outlets, she has a mail order business, mostly in Michigan.
Her trademark is the Story Teller, a little white-haired man on a rocking chair, holding a miniature storybook. He is ready to tell the story of items Iaulanda makes; the ever-popular Christmas Elf, clowns, Pinocchio, Raggedy Ann and Andy, these two are always in demand, The Old Woman in the Shoe, Puss and Boots, Rudolph the Red Nose Reindeer, Winnie the Pooh, Santa Claus and many, many more.
The Turner's moved to Howland from Pittsburgh. Iaulanda says that it was through that move that she began selling the felt characters in Pittsburgh. One of the possible buyers of their home saw and fell in love with the Christmas tree ornaments and asked if her daughter might sell them in her store. From that time to this, Felt Christmas Tree Ornaments by Iaulanda, have been for sale at Ducray's. Her Trade Mark has the inscription "by Iaulanda."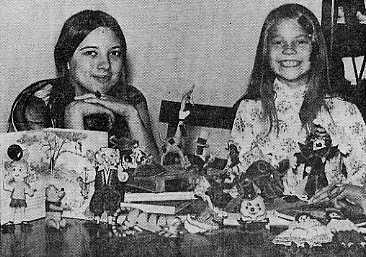 Iaulanda and Monte Turner a salesman for Allied Products, make their home at 4112 Bellwood, SE, in an attractive colonial type house. Members of the household include ten-year-old daughter, Jamie, who will be a fifth-grade student at North Road Elementary School this fall; and Kim Kennedy, of Carbondale, Ill. a niece who makes her home with them. She will be a tenth-grade student at Howland High School. Kim hopes to help her aunt and uncle in their fascinating art when production gets into full swing again.
A son, Warren, is married and makes his home in Michigan with his wife and two children, four-year-old Derek and 14-month-old Stacy. He is employed with North Central Airlines.
Iaulanda has other hobbies, too. She enjoys refinishing lovely old pieces of furniture, and dabbles in Tole work, too. Many of these re-finished, antique pieces are in daily use in their Colonial home.
The artist creates her own little felt people from her imagination, to mark some special occasion, anniversary, birthday, etc.
Iaulanda will be busy making Felt Christmas Tree Ornaments for years to come though. Many who have purchased one or two, or more, are striving to complete the set.
A collector's item, the Felt Christmas Tree Ornament is not a toy in any sense of the word, and are made as sturdily as possible.