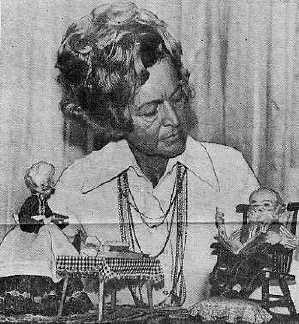 Warren Tribune
HOWLAND - Nearly every storybook character imaginable can be found hanging on the Christmas tree at the Howland home of Iaulanda Turner and family.
This holiday season, the unusual tree ornaments are also hanging on thousands of trees in private homes throughout the country... but not before they're created in the Bellwood Drive home of Mrs. Turner.
The hand-made felt characters from storybook land originally started as a hobby over ten years ago, according to Mrs. Turner.
At first, early characters such as Red Riding Hood and The Three Bears, were pieced together one-by-one on the Christmas tree. The animated bodies of the small figures were stitched together out of felt material, stuffed with nylons, and eyes, noses, ears and the like were embroidered on until each figure was completed.
Mrs. Turner said that years ago, the ornaments became very popular among her friends. Soon she was making them for many people in the Pittsburgh area, where she lived at the time. Since moving here, about eight years ago, the one-time art project of making the colorful characters has blossomed into a full-time, year-round business for Mrs. Turner and her family.
Currently, seven area women are employed by Mrs. Turner on a piece-work basis. Now, every year around the Thanksgiving holiday, over 4,000 Pinocchio, Red Riding Hoods and many other characters from the children's classics are shipped to Marshal Fields and Company for distribution to subsidiary stores. While supervising the complete operation, Mrs. Turner also creates and designs new characters each year. This year the newest members of "Iaulanda's Story Tellers" include various characters from the Mark Twain and Huckleberry Finn classics. Currently about 40 different characters can be found on the Story Teller list in stores like Halle Brothers, in Cleveland.
Although business has been booming in recent years, the doll-like ornaments are still manufactured here, with the felt pieces punched out in the Turner's basement.
Mrs. Turner said that the help from her husband, Monte, and the women who work for her, enable her to achieve the detail she wants right down to the badge found on Huck Finn's big toe.